Mold Services
Mold Inspection and Remediation in Maryland
Learn More About our Mold Services:
One of the most traumatic disaster occurrences facing property owners, insurance companies, and risk managers is water damage. Whether caused by a natural or man-made disaster, moisture is a fast and silent destroyer of furnishings, equipment, and building interiors. The result of the damage is costly repairs and often replacement. Timing is crucial to the dehumidification of a building and the prevention of the growth of destructive mold and mildew.
In today's era of environmental health, it is clear that proper water damage restoration is imperative. There is more to water restoration than extracting water from the carpet and pad. Being able to control the growth of mold and drying the entire water damaged structure – including hidden wall cavities where mold may flourish – are of primary concern.
Obviously water damage restoration must be performed by trained technicians who understand proper procedures. Trained technicians will provide the necessary adjustments to the environment by altering temperature and humidity levels to deter further production of mold, mildew, and bacteria.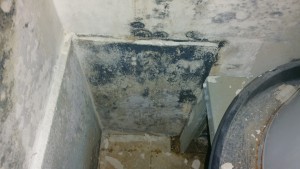 If you have water damage or you think that there may be damage behind the walls, don't delay, call PTCC Environmental now. This issue can become critical and affect your health and the health of your loved ones.
For immediate assistance call 301-725-6459 or Email us on our contact us page.