Sewage Damage
Inspection and Testing for Bacterial Contamination in Sewage Backups
Some water damages originate from non-contaminated sources of water but over time can become grossly contaminated if left untreated.  A thorough site history should be documented when assessing indoor air quality in order to determine the full extent of the damages.
Both one-time events and recurrent sewage leaks are a concern, particularly if prompt and competent cleaning is not performed.  If recurrent sewage contamination has occurred more extensive building cleaning and treatment are likely to be required. One reason for prompt treatment is to avoid the transmission of bacterial contamination to other building materials and areas. Engineering controls such as air filtration devices and containment should be utilized. Proper personal protective equipment (PPEs) should be worn by anyone with access to the affected area.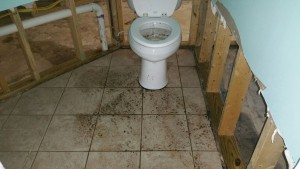 Cross contamination of bacteria and viruses may occur during the movement of people or belongings from contaminated areas to non-contaminated areas.  It can also occur with the movement of aerosolized particles or contaminated dust by natural convection, heating/air conditioning equipment, or other sources of airflow and dust movement such as drying equipment used by water damage restoration companies.
Caution:  If the water damage restoration company that you hire tries to mitigate the sewage damage as if it were a non-contaminated or mildly contaminated water damage (such as an overflowing sink or a bursting water heater) then severe cross contamination and spreading of bacteria and viruses will occur. Testing and proper engineering controls put in place will minimize the amount of cross contaminatio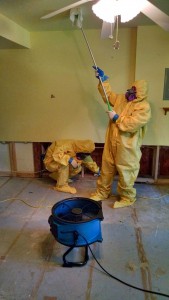 n and protect the health and safety of the occupants.  Time is of the essence when dealing with a water loss. Drying of the structure and contents should be performed as an emergency service to minimize the amount of damage. We will make sure that all of the proper engineering controls and disinfecting agents are utilized prior to the commencement of the drying process.
Typical sampling methods to test for sewage contamination in buildings include use of sterile swabs on sample surfaces both in the suspected area and as a control in other building areas where low or no contamination is expected. Bulk samples of debris or building materials may also be collected, such as drywall suspected of having been wet with a sewage backup. Samples should be sent to a qualified laboratory for culture and examination for these bacterias.
For immediate assistance call 301-725-6459 or Email us on our contact us page.